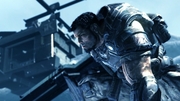 Dominic Santiago one of the main characters in the Gears Of War® series
Overview
Dominic "Dom" Santiago is a COG soldier, and has been in some of the toughest fights on Sera whilst sticking side by side with his old friend, Marcus. True to his colours he is with Marcus yet again in a new fight on E.D.N. III but is this unstoppable team over their heads? We will find out.
Gallery
Ad blocker interference detected!
Wikia is a free-to-use site that makes money from advertising. We have a modified experience for viewers using ad blockers

Wikia is not accessible if you've made further modifications. Remove the custom ad blocker rule(s) and the page will load as expected.