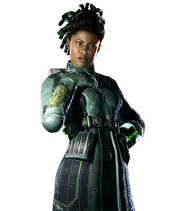 Dr. Bonnie Roman
is a
NEVEC
Scientist in
Lost Planet 3
Story
Roman is a member of the Coronis base on E.D.N. III assigned to monitoring the weather conditions of the planet.
She quickly makes friends with Jim Peyton and soon "employs" him during his mining outings to do research for her.
Death
Roman meets an off-screen death to the barrel end of a NEVEC trooper. She is found dead by Jim Peyton near her outer base as he was coming to warn her of danger. The trooper most likely responsible for her death strolls out from behind one of the buildings and is shot in rage by Peyton.
Traits
Somewhat of a recluse living on her own far from the Coronis base
Seems to be "picked" on by the rest of the base for her status as a female scientist
Nicknamed the "Weathergirl" by the base.
Ad blocker interference detected!
Wikia is a free-to-use site that makes money from advertising. We have a modified experience for viewers using ad blockers

Wikia is not accessible if you've made further modifications. Remove the custom ad blocker rule(s) and the page will load as expected.