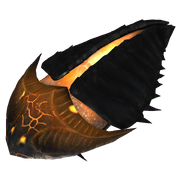 Details
The Ermmild is a small flying Akrid. It has a symbiotic relationship with the Akrid known as Sieragz, When Sieragz becomes agitated the Ermmild will flee the nests on Sieragz back and try to protect it, attacking in swarms and dive-bombing at the enemy.
Ad blocker interference detected!
Wikia is a free-to-use site that makes money from advertising. We have a modified experience for viewers using ad blockers

Wikia is not accessible if you've made further modifications. Remove the custom ad blocker rule(s) and the page will load as expected.