Among the weakest vital suits in the game, the GTF-13M Evax is arguably the fastest. In order to be light enough for fast travel the GTF-13M carries only one weapon. It has a weak jumping ability and is unable to walk fast. However these weaknesses are remedied through a transformation that changes Evax into a fast bike. This mode uses an energy thruster and is quite efficient with thermal energy use when traveling distances.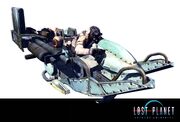 Trivia
It is most useful to travel in large maps to activate data posts, like the Frozen Wasteland map or the Canyon 810.
In LP2 the Evax's only appearance in the campaign is in the first section of Episode 3-3 under enemy control and attempts to get behind the players.
One of the only differences between the Evax and the Venesa is the Evax has more armour on the legs and places for your feet.
In LP2, (Episode 3-3) another Evax can be seen carried by a GAN-36 while in bike mode. However, this Evax doesn't do anything aside from being there; it is likely to be only decoration or background for the game. (Similar to the GAN-36 carrying a turret found behind the player at the very start of Episode 5-1)
Ad blocker interference detected!
Wikia is a free-to-use site that makes money from advertising. We have a modified experience for viewers using ad blockers

Wikia is not accessible if you've made further modifications. Remove the custom ad blocker rule(s) and the page will load as expected.