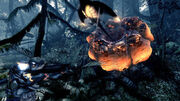 Genessa
are a type of Akrid bioform that do not attack, but instead they spawn small Akrid such as the
Trilids
,
Sepias
,
Sydsepia
and
Bolsepias
. They are very easy to kill, one grenade blast or half a
Machine Gun
mag can destroy them.
Genessa are immobile and seemingly non-sentient; they do not respond to the environment but churn out Akrid in constant streams. They seem to spawn more Akrid as the player gets closer, hinting that they may be aware of their surroundings, and so spew out more and more Akrid as a defense.
They also appear to be very adaptable and live in almost any environment such as hot and cold areas like plain snow fields or volcanic areas and jungles. In Lost Planet 2, much larger versions of the Genessa appear that can take far more damage and can spawn larger Category M Akrid such as Chryatis and Raibees. In Lost Planet 2, they have a different appearance than their original Lost Planet model.It is confirmed that all Genessa are a part of the Over G Akrid and are used as defense mechanism.
The genessa in LP3 appear to have teeth and multiple faps/jaws, also they do not burst from the ground.
Ad blocker interference detected!
Wikia is a free-to-use site that makes money from advertising. We have a modified experience for viewers using ad blockers

Wikia is not accessible if you've made further modifications. Remove the custom ad blocker rule(s) and the page will load as expected.