Games 
Other games
Lost Planet: Trag Zero (mobile game)
Lost Planet: Extreme Condition Colonies Edition (extension of LP1)
Other pages
Lost Planet: Bound Raven (graphic novel)
Lost Planet Universe
 Featured Article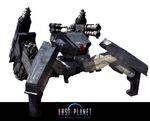 The
GAB-25M Cakti
is a four legged
VS
that has the ability to transform into a tank. In VS Mode, the GAB-25M is armed with a
Cannon
with 30 rounds instead of 15 with the ability to automatically reload after every shot and a
Laser Vulcan
, both of which are permanent and cannot be removed. The VS Mode has reduced speed, but can dash-sidestep incoming fire. It also has a jump feature and can hover in the air for a surprisingly long time, but does not move very fast while hovering.
More...
 Featured Video 
 Gallery 
 Help needed 
We are looking for decent scans of the Lost Planet Artbook. It contains important information like life on E.D.N. III before the events of Lost Planet, and interesting stuff.
Editors are needed in the:
Any other useful contribution are welcomed.
Missing media related to Lost Planet:
---
Ad blocker interference detected!
Wikia is a free-to-use site that makes money from advertising. We have a modified experience for viewers using ad blockers

Wikia is not accessible if you've made further modifications. Remove the custom ad blocker rule(s) and the page will load as expected.