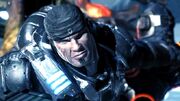 Marcus Fenix one of the main characters in the Gears Of War® series
Overview
Marcus Fenix is sergeant in the COG Armed Force and has seen his share of battles with fearsome foes, from the Basic Grunts of the Locust Army to the terrifying and colossus Brumaks. This time he has chosen to fight a new and powerful foe, with his Best Friend Dom by his side Marcus will show the Snow Pirates of E.D.N. III just how to take a fight to the next level!.
Gallery
Ad blocker interference detected!
Wikia is a free-to-use site that makes money from advertising. We have a modified experience for viewers using ad blockers

Wikia is not accessible if you've made further modifications. Remove the custom ad blocker rule(s) and the page will load as expected.