Stronghold Assault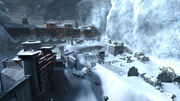 After defeating the
Godon
, Wayne is exhausted and activates his harmonizer while resting.
Yuri
announces that it is time for them to take down the
Crimson Unity
.
"Clear out the Crimson Pirate Fortress. It lies in the heart of Akrid territory, so the pirates have likely built the fortress in hard-to-reach location."
"Pirate fortress'"
Ad blocker interference detected!
Wikia is a free-to-use site that makes money from advertising. We have a modified experience for viewers using ad blockers

Wikia is not accessible if you've made further modifications. Remove the custom ad blocker rule(s) and the page will load as expected.