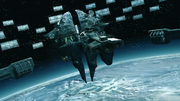 Campaign
In the Campaign, players starts at the Southern Area and the mission ends in the Northern Area.
Multiplayer
NEOS is one of the largest areas in the multipayer mode of LP2. It has the most powerful VSs of any of the other maps. It has the Big Destruction Missile and the Gravity Gun VSs on layout 4. It is an excellent place for games like fugitive, counter grab, and VS annihilator because of its large area for fugitive and sniper opportunities for counter grab. Warp grenades are especially handy here if you need to make constant trips. The support attack supernova is very useful here because of its open area,the supernova would best be used from the NEVEC shuttle.
General layout
NEOS is roughly divided by the gap between them in 2 parts: South Area and North Area. Subsection are written around.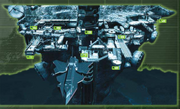 Shuttle locations varies with layouts and game types.
South-00
Docking point for shuttles. Also features a launcher.
South-01
Further inland. Can serve as a respawn point.
South-02
The upper observation post.
South-03
The upper platform with a launcher.
South-04
The higher area near the asteroid, with a crane on one side, the gap on the other.
South-05
The lower area where VS can be found.
South-06
The western gap near the cannon.
North-00
The lowest platform of the map.
North-01
Surrounds a hangar where VS can be used. Also features a round platform with either VS or data post.
North-02
Locate within the asteroid just before the tunnel leading to the end of the level. A catapult is on the upper-north side.
North-03
Tunnel leading to the end of the level with door where it is written "Reactor Core". There is no point going there in Multiplayer, except perhaps for hiding.
North-04
Upper area within the asteroid. Above North-01.
North-05
Middle-high area outside the asteroid with a semi-circular platform.
North-06
The western gap near the cannon.
North-07
The higher area near the gap.
North-08
The most northerly point of the map featuring a crane and multiple docking points. Not much action is likely to happen here. A tunnel there leads to North-03.
North-09
The hidden lower catapult point. Can serve as a starting point. With a large a team, it can be difficult to use the catapult, so players mustn't stand in the pathway of the catapult.
Ad blocker interference detected!
Wikia is a free-to-use site that makes money from advertising. We have a modified experience for viewers using ad blockers

Wikia is not accessible if you've made further modifications. Remove the custom ad blocker rule(s) and the page will load as expected.