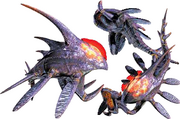 Piranha
are small, aquatic, fish-like Akrid that move very quickly, and bear the appearance of their namesake. Like the
Trilid
, Piranha are individually weak to the point of fragility, and compensate for this general weakness through sheer strength of numbers. Piranha are present in Episode 1 as a sort of level barrier, akin in function to an "invisible wall"; walking into the water causes swarms of them to attack and quickly drain health in a sort of feeding frenzy. Given that wading into the water is not a necessity for Ep. 1, the Piranha are most commonly recognized on Ep. 4-4, which is subsequently the only level in which you can kill them. They also make an appearance during the opening cutscene for Ep. 2, during which one of the elite NEVEC soldiers fends off a swarm with a plasma grenade.
Ad blocker interference detected!
Wikia is a free-to-use site that makes money from advertising. We have a modified experience for viewers using ad blockers

Wikia is not accessible if you've made further modifications. Remove the custom ad blocker rule(s) and the page will load as expected.