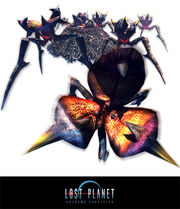 Sepias are small, swarming Akrid. They possess large, three-jawed mouths that take up most of their head, and are capable of attacking by opening their jaws and charging towards an opponent. Their bulbous heads contain most of their body's Thermal Energy. Their three legs end in razor-sharp points, allowing the Sepia to climb up vertical walls and even walk on ceilings. Because of their weakness compared to other Akrid, Sepia tend to group together and mass against enemies in swarms. Solitary Sepia often will shy away from danger rather than attack.
Lost Planet 2
Lost Planet 3
In LP3 sepia are very similar in behavior to LP1, however, they can jump noticeable heights and will occasionally duck in order to dodge bullets.
Ad blocker interference detected!
Wikia is a free-to-use site that makes money from advertising. We have a modified experience for viewers using ad blockers

Wikia is not accessible if you've made further modifications. Remove the custom ad blocker rule(s) and the page will load as expected.