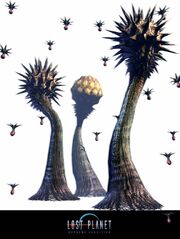 Skalts are large tentacles with a spiked sphere at their ends. They usually come out of the ground along with other skalts. Their weak spot (the sphere) is also served as a weapon, with which they throw explosive spores, or hitting any incoming enemies. Although they have low health, they can quickly regrow after being killed, making them a major nuisance whenever they are encountered.
Ad blocker interference detected!
Wikia is a free-to-use site that makes money from advertising. We have a modified experience for viewers using ad blockers

Wikia is not accessible if you've made further modifications. Remove the custom ad blocker rule(s) and the page will load as expected.