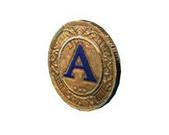 Target Marks
are coins with a capital letter scattered around during the missions. Once they are all collected on a Mission, they form a word. It is up to the player to get them or not by shooting them with the weapons. They serve no purpose apart from unlocking the achievement "Master Pioneer" (50). They have to be collected on in every difficulty and their location depends on it.
In extreme mode, they can be impossible to reach on foot and it is recommended to grab them by one on each playthrough on non-linear stages.
Ad blocker interference detected!
Wikia is a free-to-use site that makes money from advertising. We have a modified experience for viewers using ad blockers

Wikia is not accessible if you've made further modifications. Remove the custom ad blocker rule(s) and the page will load as expected.