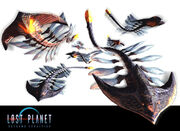 Trilids are small flying Akrid that travel in swarms. They resemble trilobites, ancient marine arthropods, with their wing-like legs making them flight capable. Trilid attack by divebombing their targets at a high speed while spinning through the air. They are the weakest of all the Akrid (one shot from a Machine Gun is usually enough to kill a Trilid), and will only provide a small amount of Thermal Energy when killed. Due to their individual weakness, Trilid group together with others and form large swarms. Despite their small size, they are still capable of killing an unaware player with two direct divebomb attacks. Trililds have a strong bonding with Over-G, where in the last cutscene the larger swarm are flying to the Over-G before they're destroyed together.
Ad blocker interference detected!
Wikia is a free-to-use site that makes money from advertising. We have a modified experience for viewers using ad blockers

Wikia is not accessible if you've made further modifications. Remove the custom ad blocker rule(s) and the page will load as expected.